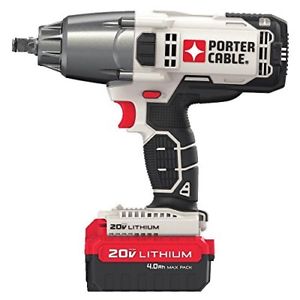 Impact wrenches can make construction and automotive jobs a lot easier. If you are planning to get one, then consider the PCC740LA cordless kit from Porter-Cable. The brand enjoys passionate support from fans who appreciate excellent design, durability, and performance. They also enjoy the backing of parent company Stanley Black & Decker which has an enviable reputation in the industry. This particular kit is a great addition to your set if you are already sold on the product line. It should be easy to swap out batteries and operate the controls. Others might think twice because of the price, though the performance is quite solid.
.
Pros
Cons

3 year limited warranty
auto LED light
1,700 RPM
330 ft-lb max torque

price is a bit high for an entry-level kit (Amazon's seems to have great sales on this one).
comes with a cheap charger
no speed controls
Top Porter-cable Impact Wrench Questions and Answers:
Q: Can this take tires off a 5th wheel?
A: It should be more than adequate given its torque rating of 330 ft-lbs which is suitable for heavy duty applications.
Q: Does it come with a charger?
A: Yes, a charger comes with the kit although it is a small one that will take about 3-4 hours to finish the job. Other Porter-Cable kits come with a bigger fast-charger that can take a battery to 100% in 1 hour.
Q: Is this item durable?
A: This was designed to last in unforgiving environments. Plenty of buyers have reported dropping the tool and still being able to use it afterwards. There may be cracks but it will still be able to function.
Our Take on This Cordless Impact Wrench:
This is a good tool to have in your arsenal if you need to deal with lug nuts and large screws frequently. It has everything that one would expect from a cordless impact wrench including long-lasting batteries, great ergonomics, powerful torque, and decent speed. It even comes with a built-in LED light that automatically lights up when you pull the trigger and shuts off upon release. This should help immensely when dealing with projects in cramped or dark spaces. However, it also lacks some things like speed control for better finesse. The price is also rather high when you compare it to similar options on the market.
.
The Basics
This impact wrench from Porter-Cable should be enough for most people as it can do common tasks with ease. Are you trying to take out the lug nuts from the wheels of a car? Done. Do you want to drive a large screw into a thick post? Not a problem. If you are already onboard with the brand's offerings, then go ahead and get this. You will not be disappointed with the quality. It is the same as it always has been. You may want to get the bare tool if you already have compatible batteries to lower the price.
The Features
This tool has an anvil size of half an inch with a hog ring to facilitate socket change. It is capable of making 2,500 impacts per minute to drive things down faster. The max torque is rated at 330 foot-pounds which is enough for general tasks around the house or the auto shop. Without any loads, it can reach a speed of up to 1,700 rpm thanks to its powerful 20V brushed motor. The bare tool weighs about 4.6 pounds while the addition of a battery takes it up to 6 pounds. It measures almost 10 inches from front to back.
Maintenance
Take care of the tool by using it only for its intended applications. Always clean it up after use. Do not overcharge the batteries to prevent bloating. If it overheats, then turn it off and let it cool down for a while. Lubricate moving parts from time to time.
Accessories
This is a complete kit with batteries and charger. However, the included charger is the cheaper version which takes time to charge. If you want to be more productive, then get the fast charger.
Who can use this Impact wrench?
This tool will be useful for car owners as they will need to replace their wheels every now and then. While they can always take out the lug nuts with manual labor, the task will take them a long and require a great deal of effort. An impact wrench lets them complete the job within a few minutes. Professional carpenters, interior designers, and DIY specialists may also want to get one for odd jobs. There are always tight bolts that will not budge no matter how hard you try. Take this tool out and they will be gone in a snap. It is one of the best cordless impact wrench for automotive use.
What didn't you like about this Impact wrench?
This is a pretty decent piece of kit when it works. Unfortunately, one Porter-Cable cordless impact wrench review complained of receiving a faulty one that did not even power on. This must surely be an odd lemon as the company's products have generally been reliable. Another issue is the lack of a speed switch to reduce rotation when dealing with sensitive materials. Using too much speed and torque can result in damage in such cases. While it does have a variable speed trigger, some users would appreciate a higher degree of control.
How does this Impact wrench compare to other comparable Impact wrenches?
1. PORTER-CABLE vs Makita
The Makita XWT111Z is very similar to Porter-Cable's wrench except for a few key differences. This one has a brushless motor which is more efficient and less prone to overheating. There is also a 3-speed control switch that provides users with finer adjustment for various tasks. The max torque is lower at just 210 ft-lbs while max RPM is at 2,800. There is a reverse rotation auto-stop mode for quick stoppage.
2. PORTER-CABLE vs Dewalt
DeWalt's entry in this category is the DC820B — an 18V cordless impact wrench with a frameless motor. The smart design provides a good grip and a compact body that makes it easy to use in small spaces. User fatigue is also reduced thanks to the lower weight. Torque is lower than the Porter-Cable's at just 1,740 in-lbs at the maximum. Speed goes up to 2,400 rpm and 2,700 ipm. The brushes can be replaced to extend service life.
3. PORTER-CABLE vs Bosch
As for Bosch, their comparable impact wrench is quite a bit more expensive with features that justify the increase. First is the use of an 18V brushless motor for longer life expectancy, a fast charger for higher productivity, and a performance control system that allows speed and torque adjustment on the fly. Inside as advanced electronics that protect the motor and circuits from overheating.
What do users say about this Impact wrench?
This kit works well right out of the box. It was able to pull lug bolts out of a tractor thanks to its powerful motor. There is no need to struggle or delay repairs if the wheels need some work. Considering the performance, the asking price isn't all that bad. It is still within striking range of the other tools in this class. However, shaving tens of dollars certainly wouldn't have hurt. The good news is that the price has gone down since it was first introduced into the market. The charger has caused a lot of frustrations with its slow pace so get a better one if you can.
Final Thoughts
Porter-Cable remains a cult favorite thanks to its pedigree and track record. With any luck, it should remain that way with his impact wrench. Be sure to compare prices at different stores as you may find a better deal elsewhere.
.