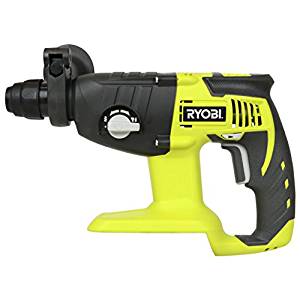 The Ryobi P221 is an 18-volt rotary hammer drill that's powerful and versatile enough to drill a range of masonry surfaces. The drill takes in both lithium-ion and NiCd 18V ONE+ batteries and offers variable speeds touching the 1250 RPM mark and going beyond 5000 BPM. Its depth rod is adjustable, allowing consistency between holes. For better handling and increased comfort, the auxiliary handle can rotate 360 degrees. Measuring 13 x 8 x 3 inches and weighing 4.95 pounds, this battery-powered drill is certified to be frustration-free. By the way, the batteries don't come bundled in with the product. But that should not be a problem as the compatible batteries are fairly inexpensive and widely available.
.
Pros
Cons

Versatile and works on multiple masonry surfaces
Torque is excellent
A lot more punch than comparable drills
The lithium-ion batteries would only take 30 minutes for a full charge
Not too heavy

Hammering ability isn't the best
Power users may not be too impressed
Wobbles a bit while drilling
Top Ryobi SDS Hammer Drill FAQs
Q: Does the drill accept both regular standard and SDS drill bits?
A: No, the Ryobi P221 accepts only SDS bits.
Q: Is the rotary hammer function changeable – like setting it to just hammer or drill?
A: This drill can be set to only rotary hammer or just drill, but can't be set to only hammer.
Q: Does this tool drill thick pieces of granite?
A: Yes, you can certainly drill thick granite pieces with a deft touch and the right bit.
Q: Does the hammer mode permit running a chisel?
A: Yes, the hammer mode does help run a chisel.
Our Take on This Cordless Hammer Drill
The Ryobi P221 is definitely not the most powerful rotary hammer drill you'd ever buy. However, for the price, the tool certainly punches above its weight. It not just performs great, but also looks big and is built well. The hammering potential could be much better; however, it manages masonry just fine. The tool is also not too heavy. You can certainly use it as a sidekick or a tool to carry when on the move. The battery lasts an average amount of time, but you'll be invariably looking for the charger in the middle of your cutting and drilling stuff.
.
Let's take a look at this hammer drill in a lot more detail in this Ryobi cordless rotary hammer drill review.
Basics
The Ryobi P221 has a two-mode selector that facilitates rotary hammer and rotational-only applications. The half-inch chuck allows for secure and quick tool-free bit alterations. The variable speeds help cut through different materials, with the 18V motor coming in quite handy with its 1250 RPM. For additional comfort, the drill incorporates an overmold grip and SDS-Plus bits. You can use P100, P103, P101, P106 and P104 batteries with the drill.
Features
• Solid Power and Performance
The Ryobi P221 is a great tool for different masonry surfaces. It's capable of variable speeds that help cut various materials. The 18V motor can offer 1250 RPM and it should take less than a minute to drill a half inch wide hole with 3 and a half inch depth.
• Well-Built and Good Design
The tool has quite a sturdy exterior, especially for the price. You are definitely not going to break this easily. The design is quite ergonomic and the fairly lightweight body makes handling even better. Not to mention, the flashy colors that make it almost impossible to misplace this tool.
• Truly Versatile
Though Ryobi P221 tries to be on the safe side of things by rating the P221 as a DIY tool, you could use it professionally too. Quite a few professionals have, in fact, used the tool for work in schools, hospitals, super stores, apartment buildings, etc. This makes the tool an extremely handy have.
Maintenance
A great maintenance tip is to not let the machine run for hours together – at least, not up to a point where it gets a bit too hot to handle. And keep the tool cased.
Accessories
The accessories you'll need for the tool are some batteries and also a charger (both don't come supplied in the package). Also, a hard case would be handy if you're particular about keeping the machine safe.
Who Can Use This Cordless Rotary Hammer Drill?
If you are someone who drills into cinder blocks and cement slabs a lot, you would find the Ryobi P221 to be your perfect companion. It is great for drilling concrete and rocks, and cutting out bore holes and bricks. However, if you are a professional electrician and you mean serious business, this hammer drill may just not cut it for you. For the rigorous drilling work that professionals require, the Ryobi P221 may not come along too far, which is quite understandable and also fine considering the P221's price. Long story short, people with DIY-level drilling requirements and professionals looking for a secondary tool would find the Ryobi P221 right up their alleys.
What You Didn't Like About This Hammer Drill?
The lack of a non-rotating setting hinders you from using the tool as a chisel hammer. The power on offer is good but it's not sufficient enough. A bit more of oomph would have done this hammer drill a world of good. Also, the hammer isn't ideal for long-term use or even using it continuously for hours together, for there could be overheating problems that may hamper performance. If the drill gets a bit too handle, just pause operations and let it cool down. Once done, you can resume work.
How Does This Rotary Hammer Drill Compare to Other Comparable Hammer Drills?
• Hilti Vs Ryobi
The Hilti is a Cordless rotary hammer drill with a 1200 RPM capacity and 4600 BPM. Capable of delivering 1.3 ft. pounds of single impact energy, this Hilti offers efficient and fast drilling in masonry and concrete. The synchronized switch and click chuck ensure high working comfort, which the Ryobi must try to incorporate.
• DeWalt Vs Ryobi
The DeWalt DCH273B is a rotary hammer tool with a brushless motor for more runtime and durability. It features 'active vibration control' that significantly decreases vibration. Though this 20V tool is almost double the price of the Ryobi P221, the impact energy delivery of 2.1 joules and the durable German engineering justifies that price.
• Makita Vs Ryobi
The Makita HR2641X1 is a variable speed rotary hammer equipped with an 8 amp motor that offers 2.1 ft. pounds of impact energy for handling extremely demanding applications. It also has anti-vibration technology and a damper spring that helps absorb impact vibrations, which the Ryobi lacks.
What Do Users Say About This Right Angle Drill?
Most users are happy with the Ryobi P221. The majority of them are non-professional or DIY users who use the tool in their garage or carry it along with them in their camper vans. A lot of these people also use corded machines and feel that this Ryobi would not replace their more powerful corded tools. But they also realize that the Ryobi gives them the freedom to not carry extension cords and a generator wherever they go.
Conclusion
Hammer drills aren't that common like they used to be. Most drilling combo kits you buy today don't come with it too. The reduced supply, however, doesn't signify decreased demand as there still are quite a lot of people who need hammer drills for work. The Ryobi P221 is a great hammer drill. Though it is kind of power-hungry, all that juice it sucks out of the battery at a fairly rapid pace is used effectively. Long story short, it is the best rotary hammer drill if your budget is limited and you know what you need.
.