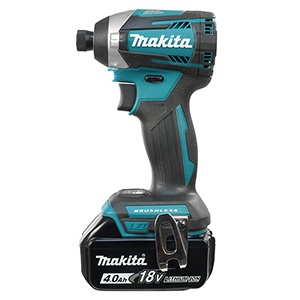 The best impact driver for you typically depends on our experience, what you use the tool for, and how much you use it. This Makita 18V impact driver review can help you determine if this is the right impact driver to add to your tool box.
Makita XDT12Z 18V Brushless 4-Speed Impact Driver
This cordless, 18 V, compact impact driver is faster than the previous cordless model. It is also the smallest of Makita's compact impact drivers. Even though it is the smallest model to date, it is packed with the most features. It has a brushless motor that has four speed settings. It features innovative modes like the Quick Shift Mode that finds the right combination of speed and torque for the most secure fastening, and the Tightening mode that reduces speeds just before completion to reduce stripping.
.
Pros
Cons

There is a 3-year warranty that covers the tool
It's a compact tool with a lot of power
lightweight impact driver weighing just over three pounds with the battery attached
Features four speeds that allow you to use all different sizes of screws in different types of materials
The special Tightening Mode slows down the speeds of the driver before the end of the screw preventing stripping and material damage

Nothing really worth mentioning. Overall, pretty solid tool.
Top Q&A
Q: Is this model sold as a bare tool only or is there also a kit?
A: Makita sells this model of impact driver as both the bare tool and in a kit.
Q: What kind of battery does this Makita impact driver takes, as there are several Makita batteries?
A: Any Makita 18 V cordless power tool battery should work. Look for a BL in the battery model name to be sure.
Q: Is there a warranty on this Makita impact driver?
A: Yes, there is a three year limited warranty, but you must buy it from an authorized dealer.
My Overall Impression
The power of this impact driver rivals that of corded models and other comparable drivers in the market. It is truly a compact model that fits into tight spaces easily. It is not the cheapest cordless impact driver, however, it is packed with features that make the investment understandable. It is a well balanced driver that is easy to use. It has four speeds, but the special modes work so well the speeds are virtually not needed. It is the perfect update to the previous Makita driver.
.
In-Depth Features
Brushless motor maximizes power, efficiency, and run time
3600 RPM maximum speed with 1,500 in/lb of torque
Four speeds for optimal power selection
Special modes allow for secure fastening without stripping: Quick Shift Mode, Tightening Mode, and Assist Mode
XPT extremely protection technology that provides resistance to dust and water
One Touch quarter inch chuck
Star Protection computer controls that protect the tool from over discharge, overheating, and overloading
Ergonomically designed rubberized grip ensures a balanced tool
Dual on board LED lights to illuminate dark work areas
Compact driver size of 4 5/8 inches long
Lightweight driver weighing 3.3 pounds with the battery
Metal gear housing provides ultimate level of protection on job sites
Maintenance
It is important to verify that all moving parts are in working order before starting the tool. Also verify that the bit is straight before operating the tool. Be sure to use the correct accessories and batteries listed in the owners manual. Clean all debris from the impact driver before storing and in between uses. Make sure to keep the grip free from any oil.
Battery Life
This Makita impact driver is to be used with batteries that have 4.0 amp/hour. The battery is made with a 3 stage indicator letting you know how much battery you have left. The batteries that are sold with the kit have a one year warranty.
Who Is This Makita impact drill For
This tool is so well designed that it is appropriate for experienced and novice use. The special power modes make it an easy to use tool for those that do not have experience with an impact driver. It is equally suitable for contractors or tradesmen with plenty of experience. The four speed power selection is perfect for users that know exactly what they need from their tool. It has plenty of power to get through lots of volume or durable materials. It is really a tool for the masses.
What I Disliked
It is difficult to list dislikes on this tool. The price is not a favorite point, especially for a bare tool. However, the quality is equated in the price so, this is splitting hairs here. Another minimal dislike is the warranty. There are some tools out there with better warranties, longer and not limited like this three year warranty. Fortunately, that is virtually it for dislikes.
Makita Impact Driver vs. Dewalt Impact Driver
These two tools are vary comparable in performance and capabilities. There are however, some very noticeable differences. The most notable difference is the price. The Makita bare tool costs close to the same price as the Dewalt kit. The Dewalt impact driver is larger and weighs twice the weight of the Makita. The Dewalt is a little more powerful with nearly 300 in/lb more torque than the Makita impact driver. However, the Makita has several custom power functions including a 4-speed power selection. The DeWALT only has 3 speeds and no special drive modes.
The majority of people lean towards the DeWALT impact driver. It is a more powerful impact driver that costs much less. The additional features of the Makita are nice, but not necessary. the DeWalt has all the functions and power needed at a much better price.
Final Word
The Makita is a great choice if price is not an issue. The special modes are ideal, especially for those that do not have a lot of experience with this tool. There are better values, but this is choice full of custom and useful features. It is a really powerful tool for the size and weight.
.