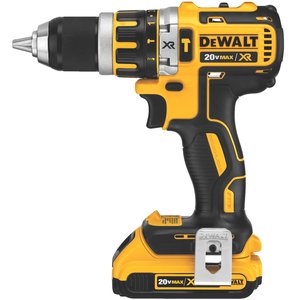 The Dewalt cordless hammer drill is one of the most versatile and reliable cordless drills on the market. Backed by a world-renowned name like Dewalt, you know the DCD795D2 20V drill is of the highest quality.
This cordless drill is lightweight and great for working in tight spaces. For many home improvement users, they'll find it's the perfect tool for building decks and screwing down decking boards with ease.
Things like building heavy duty shelving in the garage, or just about any other project you can throw at it — this drill is a beast of power!
.
Pros
Cons

This drill comes with an impressive 3-year warranty so you know that the company stands behind their product.
Light weight construction means you can hold the drill one handed while doing hard to reach jobs. There is nothing worse than trying to hang in an awkward position on a ladder and attempting to hold a heavy drill.
High speed transmission allows users to choose different variations in speed depending on the job they are using it for.

The big drawback of the Dewalt is the price. At over 250 dollars it is one of the most expensive lithium ion drills on the market (still worth the cost in my opinion)
When using the drill, the chuck seems to slip a little which can be super annoying when you're in the middle of a project.
The speed variations leave something to be desired. It didn't seem like the drill had good control at the max RPM.
Top 5 FAQ's
Q: Wondering if the hammer function can be turned off?
A: The clutch adjustment dial has one setting where the hammer function can be turned off. If you set the drill to 'drill mode', which is a selection on the outer ring of the chuck, the drill will not hammer.
Q: What is the difference between driver mode and drill mode?
A: Hammer or driver mode is typically used for drilling in harder substances like concrete or other masonry. Drill mode is for more traditional applications like wood.
Q: Is the Dewalt DCD795D2 made in the U.S.A.?
A: While there are portions of the drill that are made in the U.S., the majority of the drill is manufactured and assembled in China. You can contact Dewalt for more specific manufacturing information.
Q: Does the drill come with a hard case or contractor bag?
A: The drill comes in a hard plastic case with enough room for two batteries.
.
Is This The Best 20V Cordless Drill?
I ordered this drill a few months ago and I've had ample opportunity to use it since then. Here's my personal take on it. I used this drill for a range of different projects that (in my opinion) were not 'professional' grade. In other words, these were probably very light projects compared to what many contractors and every day construction workers would be putting this drill through. That being said, I was pleasantly surprised with the power of this drill, the ease with which I could change bits, and the longevity of the battery.
The power: One project that I used this drill for was hanging some homemade shelving in my garage. These were two by fours that I had screwed together and then I wanted to mount them using 4 inch lag screws. Generally I do not use cordless drills for these types of projects because they just can't muster the power that I need. Since I had just purchased this Dewalt, I thought I would give it a shot. It did not disappoint. I must have driven in 15-20 lag screws and the drill pushed them in just fine.
Changing bits: This is arguably one of the most annoying pain points about many cordless drills. You have to stop what you're doing, fumble around with the chuck to try and get your bit out, and it's almost always a pain in the butt. With the Dewalt, changing bits was super easy (although I did notice that the bit would slip or become slightly loose from time to time).
Battery longevity: The battery life was what I really liked about this drill. Usually when you lose battery power, you lose power in the drill. The lithium ion battery was super long lasting in this drill. I was putting together my kids' play set for well over 4 hours and the battery was still going strong.
The Basics of this cordless drill:
Specific weight: 3.6 pounds, warranty is a 3 year limited manufacturer warranty (covers manufacturer defects), average battery life of 24 hours, includes 2 lithium ion battery, compact design, energy star certified, 20 volt battery, brushless motor, 2-speed transmission, LED lights, half inch ratcheting chuck, 20 second trigger release delay, belt hook and high speed charger.
Maintenance Tips
The DCD795D2 is designed to be relatively maintenance free but there are some tips that should be followed. After use, it helps to use compressed air to blow out any openings or internal cavities on the drill. You should also wipe your drill down with a damp rag to remove any debris or construction residue.
Accessories
The Dewalt drill can be paired with a number of different accessories. These include belt clips, brushes, extended batteries, contractor bags, and assorted bits.
Who can use this cordless drill?
This drill can be used by the average home owner for intermittent small projects all the way up to the professional handy man or contractor for routine work.
What I didn't like about this cordless drill?
The best part about this drill is the extended battery life. You can use it for much longer than traditional batteries on larger cordless drills.
How does this drill compare to other cordless drills?
1. Dewalt DCD795D2 vs DCD96D2
The DCD795D2 has the compact features and the 2-speed transmission over the DCD96D2. The latter is a much bulkier drill which can be better for routine construction operations. For the average home owner doing casual project though, the DCD795D2 is the clear choice.
2. Dewalt vs Makita
For the price, the Dewalt is the better choice for the casual user. It has all the power and features you could ever want. If you are in for more heavy duty work, the Makita may be a better buy for its rugged longevity.
3. Dewalt vs Milwaukee M18 Hammer drill
Here again, if the name of the game is routine daily grinding on your power tools, a Milwaukee is probably going to be a better investment. For the average homeowner however, the Dewalt is a great value.
What do users say about this cordless drill?
While all drills will have their reviews at both ends of the spectrum, the overall ratings on the Dewalt are favorable. Many people leaving a Dewalt DCD795D2 Review liked the compact nature of the drill which makes it ideal for home improvement projects. They also liked the extended battery life of the lithium ion battery.
My Final thoughts:
Overall, if you are a casual user and in the market for a cordless drill, the Dewalt DCD795D2 is a great value. It's perfect for home improvement projects that almost always involve doing work in tight spaces and with short notice. Extended battery life makes it easy to transition from job to job without having to wait for a recharge. Be sure to compare this drill with our top 7 cordless drill reviews.
.