Compare Top Rated Cordless Impact Wrenches
Nothing is more frustrating than a rusted bolt. It can take superhuman effort to have it removed and few have the natural strength to make this happen. You can yank at a wrench all day without seeing any progress. Fortunately, we can always count on power tools for more muscle. In this instance, what we would need is an impact wrench with enough torque to move the bolt and save our wrists from injury.
In the past, we would need a massive corded air-tools to make this happen as they were the only ones powerful enough for the job. Now we can also rely on smaller cordless solutions thanks to improved designs and higher efficiencies. Choose carefully to find the best cordless impact wrench for automotive applications. The following products are among the most compelling models in the market today:
1 .
DEWALT 20V MAX

Lithium Ion 1/2″ High Torque Impact Wrench DCF889M2
DeWalt makes some of the best power tools. Their foray into cordless impact wrenches has been a fruitful one as the DCF889M2 does not disappoint. It's a brawny little device with good torque and a high capacity battery. For many, this model is the one to beat in this category. Read Full Review
.
Pros
Cons

3-year warranty
400 ft-lbs of torque
Long lasting battery

It can be heavy for some
Priced higher than it's rivals
Top Questions and Answers:
1. Can this be used for oil changing?
It is possible but there is a risk of stripping the drain plug so a manual wrench might be better.
2. How many batteries does the unit come with?
It comes with two high capacity batteries.
3. Does it come with a charger?
Yes, it comes with a wall charger.
4. Do the sockets come off easy?
This tool is available with two types of anvils: a detent pin and a hog ring. The latter is easier to handle.
5. Does it have enough power to tackle lug nuts on a truck?
Yes, owners have used it many times to change their flat tires.
Is this the best impact wrench for automotive?
This DeWalt cordless impact wrench is a solid tool that gets the job done with little fuss, however, I think Milwaukee does a better job. It has ample torque to move even the most stubborn bolts so you don't have to wrestle them with your wrench. You can let the machine do the heavy lifting for you while you wait. You won't have to wait for very long either since things should come off pretty quickly. It's a little bit heavy and it's price is not cheap but that is the cost of quality.
2.
Milwaukee 2763-22 M18

1/2″ Inch Impact Wrench
Milwaukee is one of the brands that can match DeWalt note for note and even outperform in my opinion. Sometimes their products even end up being arguably superior. Take the case of the 2763-22 M18 Impact Wrench. It can produce about twice the torque to take care of the most stubborn nuts without draining the battery too fast. In fact, it boasts of twice the average runtime in this category. It's certainly a bit pricier, but worth the long-term investment.
.
Pros
Cons

5 year warranty
700 ft-lbs max torque
Built-in LED
Full kit with charger and batteries
Variable Speed Trigger

It's high in price compared to other similar impact wrenches
Users have noticed vibrations that can seem annoying.
Top Milwaukee Questions & Answers
1. Does it come with batteries?
Yes, there are two 5Ah batteries in the kit.
2. How much does it weigh?
The tool itself weighs around 6lbs.
3. What is the charger voltage?
You must plug it into 110V AC sockets.
4. What is this tool suited for?
This tool can be used for car repair and maintenance. It may also be used around the home at the lower setting but care must be taken to avoid damage. This is a solid impact wrench for mechanics that are looking for unrestricted movement while working in and around tight areas.
What's our thoughts on Milwaukee's cordless Impact wrench?
The Milwaukee M18 is a great line of power tools and this impact driver certainly deserve a place among its peers. Its incredible power allows it to deal with virtually any lug, even in large vehicles. This kind of brawn was unheard of when cordless tools came into the market but things have truly improved by leaps and bounds. Get this product if you often work with cars as it will save you a lot of time and give you the confidence to tackle anything.
3.
Ingersoll Rand 1/2″

High-Torque Impact Wrench Kit W7150-K2
This Ingersoll kit has everything you need including the tool, the charger, and two batteries for quick swaps. It is a bit pricey at over $400 but you do get a very capable machine for the money. It also features one of the highest torques on a cordless impact wrench.
.
Pros
Cons

3-year warranty
Complete kit
780 ft-lb of max torque

Batteries could be more efficient for the price of this wrench.
Top Cordless Wrench Questions and Answers:
1. Where is this product made?
The wrench is made in China while the batteries are made in Poland.
2. Can the charger be plugged into 220V?
Yes, the charger input can range from 100-240 VAC.
3. How will warranty issues be handled?
If there is a problem while the tool is under warranty, then Ingersoll will pay for the shipping and repair of the product.
4. What does the 1,100 ft-lbs of nut-busting torque mean?
It is the reverse torque for removing corroded wheel lugs with the high rating ensuring success every time.
What's our Take on The Ingersoll Rand Cordless Impact Wrench?
This Ingersoll Rand impact wrench will not let you down. Its impressive torque is more than enough to remove the most stubborn lugs from rust wheels in no time. You will not have to pop your veins or risk injuring your wrist from the effort. The tool may be overkill if you are only working for DIY projects inside the house but it is indispensable if you are frequently dealing with automotive issues. It's a dependable kit from a respected brand.
4.
PORTER-CABLE 1/2″

Cordless Impact Wrench PCC740LA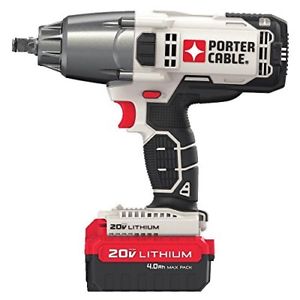 This wrench is one of the more affordable products in this category so it should attract budget-conscious buyers. If you aren't dealing with the toughest conditions out there, then there is no reason to spend more on monster specifications. This machine should suffice for minor jobs where you are trying to save time and effort. Read Full Review
.
Pros
Cons

3-year warranty
Lightweight
Built-in LED
Great price

Low torque at 330 ft-lbs max
Top Porter Cable Wrench Questions and Answers:
1. Can this help in taking tires off from the fifth wheel?
Yes, its max torque should be enough to get the job done.
2. Is this item durable?
Owners say that it is holding up well despite use and abuse.
3. Does it comes with a charger?
Yes, it does. It is a complete kit.
Being a cheap cordless impact wrench, is it worth the investment?
Porter Cable is not the most recognized brand in this category but they do have decent products. This particular model is not trying to take on the heavy hitters either. The specifications are far too low for that. Instead, they are aiming for buyers who are planning to get a wrench for smaller jobs around the house and car. The asking price is reasonable given that this is a complete kit with batteries and charger. Just don't expect too much and you will be fine. If you must absolutely get the latest and greatest, then this is not the one for you.
5.
DEWALT 20-volt MAX

Li-Ion 3/8" Impact Wrench Kit DCF883M2
DeWalt is back, this time with a smaller tool that has a 3/8-inch driver. This is a good kit to add to your collection with a compact wrench, a pair of batteries, and a charger all in a sturdy case. Nifty features show their designer's attention to detail. The asking price is not too bad either. Read Full Review
.
Pros
Cons

3-year limited warranty
Lightweight tool at 3.6 lb
Max 2,300 RPM, 2,700 IPM
Compact size
Top Dewalt 20v Impact Wrench Questions and Answers:
1. How many batteries are included in the kit?
There are two batteries rated at 3.0 Ah.
2. Is the carry case durable?
Owners say that it is durable and well-built.
3. Are the batteries compatible with 1/2-inch drive models?
Yes, they can be used with other 20V DeWalt tools.
4. What is the function of the hog ring?
Its purpose is to secure pieces to the device. It retains the sockets so that they don't simply slide off.
Is this cordless wrench powerful enough for automotive work?
If you want a powerful impact wrench, then skip this and go for the 1/2″ DeWalt tool. However, if size is your number one concern this is a great option. It is far more compact and lightweight. This means that you can use it in tight spaces where bigger wrenches simply will not fit. It doesn't matter how much torque they have if they can't even reach the target in the first place. It's a nice kit to have around the house for sudden car repairs.
6.
Makita 18V LXT

Li-Ion 1/2″ Square Drive Impact Wrench Kit XWT041X
Japan's Makita continues to provide high quality tools for power users. This impact wrench features a half-inch square drive and cordless power. It comes with a 3.0 Ah battery and compatible charger. It is a fairly compact machine at only 10 inches long but it can produce a good amount of torque and RPM.
.
Pros
Cons

3-year warranty
Great price
1,600 RPM and 2,200 IPM

Heavy at 7.6 lbs
Low 325 ft-lbs Max torque
Some have mentioned the battery can become loose, I haven't noticed this issue personally.
Top Questions and Answers:
1. Can this impact wrench be used for automotive applications?
Yes, this is powerful and versatile enough to be used for both construction and auto repair.
2. Where is the product made?
Makita products are primarily designed and made in Japan, though some processes may be done in China.
3. Can the torque be reduced for lighter work?
No, there is no switch to lower the settings.
Our Take:
Makita has built a good reputation over the decades. They continue to rank among the top power tool manufacturers in the world. This 1/2 cordless impact wrench is a solid entry into this category. The torque may not be the highest out there but it is still plenty of muscle for most jobs that require some turning. You will be able to save hours of labor by using this tool for your car or your house.
7.
Bosch 18-Volt

Li-Ion Compact Impact Wrench IWH181-01
Last, but not the least in this list, is a 3/8 cordless impact wrench from Bosch. The IWH181-01 runs on 18V batteries with two of them included in this kit. The company claims that this is 25% lighter than the average product in this class. It is also 23% shorter than their main competition.
.
Pros
Cons

3-year warranty
Lightweight and compact design
2,800 RPM, 3,200 BPM

133 ft-lbs Max torque
May need a breaker bar for very tight nuts.
Top Makita Impact Wrench Questions and Answers:
1. What type of batteries are included in the kit?
You will receive two 4.0 Ah batteries with model number BAT620.
2. What accessory is needed to turn this into a screwdriver?
You will have to attach an adapter for 3/8" socket to 1/4" hex drive shank.
3. Can this remove lug nuts on a car?
Yes, but only if these nuts are not too tight. For better results, use a more powerful wrench.
Our Take on this cordless wrench:
This compact impact wrench has an excellent design that allows it to fit into places where regular tools can't. It is also lightweight so you can hold this comfortably for a long time if you need to. The torque is enough to perform most jobs around the house and garage but it can struggle when it comes to the toughest nuts. Using a breaker to loosen them may be required before finishing off with this tool.
---
Cordless Impact Wrench Buyer's Guide
Before impact wrenches became popular, users had an option in the impact drivers. In most general DIY functions, the users opted for the impact drivers due to their higher torque value and general purpose. This pushed the manufacturers of the impact wrenches to come up with equally effective DIY tools in the name of the cordless impact wrenches. The options are more compact than the original designs and more effective than impact drivers.
The advantage is that they are compact-built and thus great for auto-mechanics and amateurs. They are convenient for removing lug-nuts from tire-rims. Judging by the customers' cordless impact wrench reviews, the tools are impressive, and thus are a must-have at home in your garage and inside your car's trunk. The tool is fast and effective in removing and tightening screws and bolts. It guarantees that your DIY project is done fast and effortlessly.
What's the Difference between the Impact Driver and the Impact Wrench?
Generally, the impact wrench is heavier and more powerful than the impact driver. The designs of the impact wrenches enable them to produce more torque power than their driver counterparts. In terms of the drive, the impact wrench employs a ½" drive while the drivers employ a ¼". On a functional basis, the impact drivers are suited for driving screws while the impact wrenches are designed to fasten or loosen sockets. However, you can convert your impact driver's drive from a ¼" to ½" (as in the case of the impact wrench) by adding an adapter.
The adapter allows you to use the impact driver with the socket drivers. Most homeowners don't find much use in the impact wrench since its activities are vast, and this translates to them being expensive. Nonetheless, they can use the wrenches in removing bolts and nuts at home. On the other hand, the impact drivers are designed for both DIY and professional use. They are compact and give enough torque for the home application. However, this does not mean that they are superior to the impact wrenches.
What to Look For in a Cordless Impact Wrench?
To find the best cordless impact wrench for the money that you have, you should consider four things. To begin with, you should go for an option that has high power. For the best performance, the wrench should give deliver 200 torques or more. Secondly, the cordless impact wrench should have a higher Rotation per Minute (RPM). A higher RPM, more than 3000, translates to less human effort. Thirdly, your option should have a higher Impact per Minute (IPM). A higher IPM also translates to less effort. Lastly, you should use a wrench that is compact and lightweight. This will ensure flexible carrying and usage. If you are buying the tool to drive bolts and nuts, you'll want an option that doesn't require too much effort and one that is easy to operate.
Air Impact Wrench vs. Cordless Impact Wrench
There are physical and performance differences between the air impact wrench and the cordless impact wrench:
• The motor (brushless vs. non-brushless): Essentially, the motors of the cordless impact wrenches are brushless while the ones for the air impact wrenches are non-brushless (brushed). The brushed motor employs simple wiring for its performance and the working is facilitated by a switch. Due to their simplicity in design, these motors are not as effective as the brushless. The other demerit is that they have a shorter life. On the other hand, the cordless brushless motor enjoys a longer life and higher work efficiency.
• RPM, torque, and IPM: Air impact wrenches enjoy higher RPM, torque, and IPM than their cordless counterparts. The wrenches produce extra torque power, which translates to higher IPM and RPM. In the long run, you get to spend less energy in loosening tight nuts or bolts. They don't have a limit on their working potential, and this means you can work with them continuously. Their power is derived from an external source (electric connection), and they work as long as there is electricity. On the other hand, the cordless impact wrenches are limited in power. They generate less torque if compared to the air impact wrenches, and their batteries only run for limited minutes before you charge them. This means that their functionality is battery-dependent.
• Drive (1/4, 3/8, or ½ inches: which one and why?): The drive size aids in the torque performance that is offered by the impact wrench. The cordless impact wrench comes with an adjustable power control feature, which makes it easy for you to change the torque rate when using it. Since the higher the drive size, the higher the torque, you should go for the ½" drive over the other two. However, when it comes to choosing between the 3/8″ drive and ¼" drive, you should go for the former. Unfortunately, a majority of the air impact wrenches do not have the adjustable features. Therefore, it's hard to control the drive size. If you try to adjust the drive, you may break the bolt or nut that you are working on.
• The battery: A majority of cordless impact wrenches allow the swapping of their batteries since it's external. You can have several power tools awaiting you to swap their batteries. This is effective in reducing clutter around your garage. As for the air impact wrenches, the batteries are inbuilt, and you don't have the freedom to swap them. This is because the wrenches purely depend on their designer batteries. The batteries are mostly lithium-ion. This means that you are limited to use a specific battery. This is meant to help you avoid battery issues such as leakages and overcharging. However, in terms of battery performance, the cordless wrench requires frequent charging since their batteries lose charge faster.
What's the Primary Use of an Impact Wrench?
Most people do not understand the basic uses of the impact wrenches. Their applications are:
• Used in construction sites and in a Mechanics garage: They help to put up massive pillars that are supported by bolts and nuts. The wrench drives and tightens the bolts and nuts securely.
• Used in home fixing: You can secure your furniture pieces or your kid's bike using the wrench. The impact wrench torques through sticky bolts with ease, and thus great for home repair works.
• Car repair: If you find it difficult to change your car's tire with your regular wrench, you can use the impact wrench. The tool is a fast, and it will help you tighten the bolts or nuts securely.
• Used in auto-mechanic shops: The store owners use these wrenches in performing heavy mechanical duties.
FAQs
1. What's the difference between NiCad and lithium batteries?
In terms of age, the nickel cadmium (NiCad) batteries are the oldest batteries employed in the impact wrenches. They are robust, cheap, and enjoy a longer shelf life. They are still common today, but their popularity has been overshadowed by the lithium-ion batteries. The lithium batteries employ the latest technology, and this is why they have managed to outperform the NiCad. Though expensive, the lithium-ion batteries are designed to withstand a majority of charging problems, and they are able to keep the charge for extended periods. The other difference is that they are lightweight, and thus great for the modern compact wrenches. If taken care of properly, the lithium-batteries can give you a longer service.
2. Which drill voltage should I choose? 18V, 20V, or 36V?
Basically, the higher the drill voltage, the more powerful the cordless impact wrench is. However, the choice of the voltage to use depends on the type of drilling job that you are doing. For light duties, you can use a drill voltage of 18V while for medium duties, you can use 20V. However, if you are looking to perform heavy drilling or driving duties, you can use a voltage that is as high as 36V. So, the decision on what voltage suits your cordless wrench is dependent on the intensity of work. To some extent, it also depends on the model of the impact wrench that you are using. A good wrench should allow the application of variable voltages depending on the type of work you are doing.
3. What does the "Ah" mean in cordless batteries?
Normally, the rechargeable batteries lose their power/charge when they are not in use. There are models that lose their power faster than others. The capacity of the cordless battery is expressed as Ah (Amperage hours). Typically, the Ah value expresses the amount of energy (charge) that the cordless battery holds. On a basic level, the higher the Ah value, the longer the battery stays with the charge, and the longer its used by the cordless wrench. As a buyer, it's thus smarter to consider a cordless battery that has a higher Ah, and you can tell this from the cordless impact wrench reviews online.
4. What does Variable Trigger Speed Trigger mean?
Variable Trigger Speed refers to the ability to reverse the rotational movement of the cordless impact wrench motor. What you manipulate is the speed switch of the power tool. Once you have engaged the switch, it communicates to the other parts of the mortar, resulting in an opposite movement. Generally, a great impact wreath should allow you to change the trigger speed and achieve a great performance in as far as tightening/loosening the bolts/nuts are concerned.
5. What's the difference between an air impact wrench and an air ratchet wrench?
The impact wrenches are essentially designed to give you a higher torque value than the air ratchet wrench. Usually, the impact wrench gives about 180 pound-feet while the ratchet gives you about 70 pound-feet. You will find it easy to use the impact wrench than the air ratchet. This is primarily because of their twisting capability. When you loosen the nuts, you will find it easy as the wrenches enjoy a higher torque value. As for the impact ratchets, they are ideal for loosening and tightening low and medium bolts. If you use the impact wrench here, it may break the bolts heads or damage the threads.
6. What's the difference between RPM, IPM, and torque?
RPM stands Revolutions/Rotations per Minute. This is the speed at which the wrench is working under. IPM stands for Impact per Minute, and it defines the work performance of the wrench per given time. Torque refers to the force that the wrench is using. When the torque is higher, this means that the RPM and IPM are equally high.
Bottom-line
As a smart buyer, you need the right guide to benefit from the best cordless impact wrench for the money spent. With the right tool, you will be able to perform your DIY duties efficiently. You will be able to loosen and tighten the nuts and perform drilling duties fast and efficiently.