Compare Top Rated Impact Drivers
Finding the best impact driver for the money can be a painstaking task, especially if you have never owned one. However, shuffling through impact driver reviews isn't something everyone wants or likes to do.
I've been a contractor for nearly 20 years and I've used some of the best and cheapest impact drivers on the market. There's a few things you should keep in mind when looking for one and that is: BPM, Torque and battery power.
With that in mind, look for impact drivers with torque rating above 1,200 – this will help ensure you can drive those lag-bolts into a rim joist, or post beams with ease.
…In a hurry?
Now, if you wanna
work like a champ
and crush any outdoor/indoor project – then you need to have one of these and
Our #1 Pick:
Dewalt 20v Impact Driver
For those that insist on buying a under-performing drill – check this out: PowerSmith Impact drill — Guaranteed to piss anyone off : )
Top 7 Best Impact Drivers

Reviewed & Rated:
1.
DEWALT DCF885C1 20V

Max 1/4″ Impact Driver
The ergonomic design of the DEWALT Impact Driver Kit allows it to fit into tight spaces. It weighs 2.8lbs and is only 5.55 inches back to front. For increased visibility, it has a built-in LED light with a 20-second delay after each trigger release.
This is a super lightweight impact driver that packs a lot of power. Many of the contractors I work with love this tool. Read full review
.
Pros
Cons

A lot of power per charge (1,400lbs of torque)
It weights only 2.8lbs
3 LED lights to help light up the area you're working in.

Some say the battery doesn't last too long. However, this depends on what you're using it for.
Top FAQ's
Q. Does it have variable settings?
A. The impact of the driver depends on how far you depress the trigger. So if you press it lightly, it will release slower, and if you push it in further, it will release faster.
Q. Can the charger take a 220v input or just 110v?
A. It takes a 110v
Q. Can I use a 20v 4.0Ah battery on this drill?
A. Yes, all 20v DeWalt batteries will work.
What's My Take
According to many cordless impact driver users, this is one of the best on the market at this price range. You may be tempted to underestimate its power, because of its size but surprisingly this little driver packs a punch. It is ideal for various tasks around the house and may even be used in certain aspects of heavy duty construction. The LED compact size allows it to fit in small spaces, while the LED lights make working in any light easier.
2.
Makita XDT12Z 18V LXT

Brushless 4-Speed Impact Driver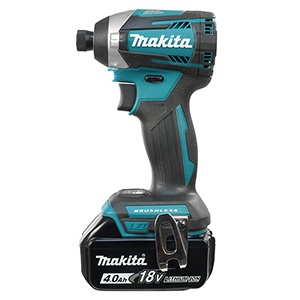 According to many cordless impact driver reviews the Makita 18V LXT Impact Driver is faster and has more torque than its predecessors. Thanks to its precision fastening applications, there is no damage to the screw or work surface. It weighs in at 3.3lbs and produces 1,550 lbs of torque and has four power speed settings up to 3600 RPM. This is probably the most compact and best cordless impact driver in its category. Read full review
.
Pros
Cons

4-Speed power selection switch (0-1,100| 0-2,100| 0-3,200| 0-3,600 RPM )

Brushless motor to help save on battery life
1550lbs of torque to help you drive lag-bolts into a microlam beam (LVL) with ease.
3 Year Warranty

It's certainly not the lightest impact driver out there, but the pros outweighs the cons any day!
Top FAQ's
Q. Will 18v Makita batteries work with this tool?
A. Yes, it will.
Q. Can it be used as a hammer drill?
A. No, it is not recommended. Some other drivers are designed to be robust hammers as well. However, this one is not suitable.
Q. How durable is the driver?
A. I have dropped it several times from a height is 25 feet, and it stills works like a charm, time and time again.
Q. Where is it manufactured?
A. In Japan
What's My Take
This compact driver is small and sleek yet powerful enough containing four speed settings. It's also made in Japan, so the extremely durable and many users report dropping it several times from a height of between 20 to 25 feet, and still the driver works immaculately. It's incredibly heavy-duty and suitable for work on construction sites. The driver produces a lot of torque and is capable of snapping heads on screws without hassle – so be sure to adjust the cool speed settings. It fits nicely in your hand and has variable torque settings.
3.

PORTER-CABLE

PCCK647LB 20V MAX

The PORTER CABLE Cordless Impact Driver has a brushless motor which provides fifty percent more runtime. It packs plenty of torque for large fastening applications at 1400lbs and 2900 RPM. I really love the quick change hex that allows for rapid, one-handed drill bit changes – perfect for when you're standing on top of a ladder in a tight space. It's very lightweight weighing in at 2.9 LBS and carries is a three-year warranty. The ergonomic design is 14% shorter than other models and makes it easy to grip and hold.
Porter cable has been around for a longtime and for the price, this impact driver is a steal. Read full review
.
Pros
Cons

3 year warranty
Brushless motor
Plenty of Torque and RPM
Quick change hex
Great price

Batteries don't last very long
No speed settings – so be careful when driving screws so that you don't snap the head.
Top FAQ's
Q. Will this take off lug nuts
A. No, you need at least 300 FT-LBS of torque for this application
Q. What accessories sent with the driver?
A. It comes with two batteries and a charger
Q. How long does LED light stay on while working
A. It will stay on for approximately 20 seconds before going off
Q. Are the batteries interchangeable with other brands?
A. No, the batteries only work with this specific brand
My Thoughts
This cordless impact driver is a handy tool to have around the house. However, with the two batteries included, it can be taken to job sites as well. Although it is lightweight and small in size, it's capable of handling powerful tasks. However, the only problem I have with this impact driver is that there's no speed settings. It's not that much of a deal breaker, it's just that for another 30 bucks, I can adjust the speed and torque for the type of screw, lag-bolt, job I'm doing. If you're not use to single speed settings, you can easily snap the screw head off. Furthermore, when it comes to the driving of drill bits and screws, it gets the job done. It comes with two batteries and takes approximately 50 minutes from dead to full charge.
4.
Milwaukee 2753-20 M18

Fuel 1/4 Hex Impact Driver
The Milwaukee Impact Driver is lightweight and uses a lithium ion battery. It weighs 2.6 pounds. Similar models have brushes however this model is brushless. You will be pleased to know that this driver has various settings and is ideal for jobs that require less power as well as it won't damage the surface will mess up the job that you are trying to do.
Milwaukee is a brand that is breaking all kinds of records, in regards to performance & reliability – especially with the M18 line. Read full review
.
Pros
Cons

It's lightweight.
Packs a bunch of power – 1800lbs of torque.
4-speed modes for maximum drive efficiency.
5-year limited warranty

Some customers complain about the speed settings not working accurately – I haven't noticed it.
Top FAQ's
Q. What accessories are included with this driver?
A. It is sent as a bare tool, so no charger, battery or case
Q. How do the sockets attach to the tool?
A. It attaches via a 1/4″ hex drive bit holder
Q. Will it work on heavy bolts on vehicles?
A. Not really, this model is designed more for construction. If you need one specifically for automobiles, you should inquire as there are various models available.
What's My Take
This has to be the best impact driver for the money, hands down. It might be pricey for some, but worth it in the long-run. I see a lot more tradesmen buying these more and more and I can see why after I tested them out on various projects. There's consistent drive and stability when driving 6″ lags or screws into decking or rim joists with ease and the battery kept right up to 4hrs on a single charge of abuse. Overall, the Milwaukee brand earns a 5 star rating in my book and their solid 5 year limited warranty makes it an easy purchase.
5.
Ridgid GEN5X R86035SB 18-Volt

Lithium-Ion 1/4 in Cordless Impact Driver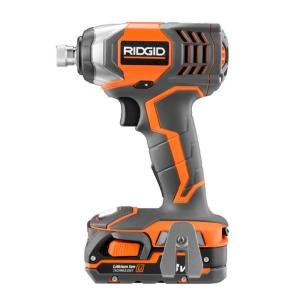 The Ridgid Cordless Impact Driver Kit is an excellent tool for any handyman. One of the first things you will notice about it is the fantastic battery life that lasts a while between jobs. The variety of speed and torque settings are also nice features. As a bonus, Ridgid offers the free batteries for life program as part of their Lifetime Service Agreement. It also comes equipped with a battery indicator that allows you to check how much battery life you have left.
This is a nice low cost impact driver. Read full review
.
Pros
Cons

Ridgid's lifetime service agreement
multiple speed and torque settings allows for flexibility and versatility
High speed transmission allows users to choose different variations in speed depending on the job they are using it for.

0 to 2,000 inch pounds of torque
Top FAQ's
Q. Can I use the same batteries for all Ridgid tools?
A. Yes, All Ridgid batteries are compatible and interchangeable
Q. How much does it cost?
A. It is available at different retail prices from different sellers and retailers. However, it is cheaper than other leading brands, and you get free batteries with it
Q. Is the brushless version
A. No, it is not
Q. How can you tell how much battery life you have left?
A. It comes with a handy battery switch that shows you how much battery life you have left
My Take on this driver
While the Ridgid brand may not be as famous as other leading brands, it definitely does have its supporters. Many customers who have tried other brands admit that this is a much better driver than the others they have been attempting, at half the price. So not only does this driver win you over with its torque, speed variations and comfortable grip handle, but it is a bargain for what you are getting. If you are looking for a compact driver that is as efficient at home as it is at the job site, then this is the way to go.
6.
Bosch 25618-02 18-Volt

Lithium-Ion 1/4-Hex Impact Driver
If you have ever needed to get a job done in a hard-to-reach or tiny space, then you will appreciate the Bosch Hex Compact Tough Impact Driver with Slim Pack Battery. Its compact design allows it to get into those hard-to-reach places to accomplish practically any job. Optimized torque limits assist in not stripping off the head of screws. If you have a tendency to work in low lighting in environments, you'll be pleased to know that it has a useful LED light which simply illuminates the work surface. It provides the best control and runtime for medium or small duty fasting jobs. It also constrains an innovative feature called the electronic cell protection feature which basically prevents damage caused by misuse and also increases the battery life. Read full review
.
Pros
Cons

It's not heavy
Compact enough to use in hard to reach places
Innovative features preserves battery life and lifespan of the driver

2,800 RPM and 1,500 Inch/lbs of torque

1 year warranty – it's not a deal breaker, but when the industry norm is around 3 years, it certainly doesn't sway my decision from other comparable drivers.
Top FAQ's
Q. What accessories accompany the driver?
A. According to the manufacturer website, it comes with 1 belt clip, a single battery, 1 contractor bag and 1 charger.
Q. How does it perform doing metal related tasks
A. It works wonders when you self-tapper screws through metal
Q. Do the batteries lose charge if you don't use the tool?
A. No, you will be pleased to know that the battery holds the charge while it is not used.
What's My Thoughts
This is a decent impact driver for the price. You can easily get into tight working spots. It's durable and designed to last long. The electronic cell protection protects the battery life and minimizes damage to the tool. Ultimately, it still needs to be maintained like any other tool that is used daily or very often. If you have an emergency job to do or something that cannot wait until morning, the 3 LED lighting will provide adequate illumination to get your job done even in the most critical lighting conditions. Ultimately, the features, pricing and tons of great reviews make this cordless compact driver a decent buy for a mid-level driver.
7.
Ryobi Cordless 18V

P237 Impact driver
The Ryobi impact driver brings life to the word "impact". With its three torque and speed settings, this mean looking driver packs a powerful punch. It is built solidly and has on-board lighting that comes in handy when you need to work in areas where lighting is poor. Although it runs on regular Ryobi batteries, the battery life is still pretty good. This driver can complete the necessary tasks that it was intended for. However, you should maintain it and only use it for functions that it was designed for. This is the best way to lengthen its lifespan. Read full review
.
Pros
Cons

It has great battery life
It is packed full of features and benefits
It is affordably priced considering its quality and performance

It's a lot more noisier when compared to top models.
Top FAQ's
Q. Will this driver remove lug nuts?
A. You may have an issue if the lug nuts are on too tightly, but once they are slightly loose, you shouldn't have a problem removing them using this impact driver.
Q. What is the difference between P237 and the P236
A. The P237 definitely has more torque and 3-speed settings. This version also has a power level switch that helps to reduce stripping out screws. With this version, the LED lights stay on for a couple of seconds after you release the trigger and it also contains a spring-loaded auto eject chuck.
Q. Are there more compact versions of the Ryobi impact driver?
A. No, this is the most compact in its catergory
Q. Is this impact drill versatile?
A. It has three torque/speed variations and is, therefore, able to drive through multiple boards. However, it can also be dialled back for jobs that need a lighter touch.
What's My Take
Ultimately, everything about this impact driver is great and it could be the best impact driver on the list. It is priced just right, contains all the features and benefits to make working with it more relaxed and at the end of the day gets the work done. It also comes with bonus features like the LED lighting and belt clip. This is really an excellent tool to use in and around the home. So if you know how to use a drill or similar device, then you should be getting lots of work done using the Ryobi impact driver. One of the only significant drawbacks or shall we say minor disadvantages with this driver is the fact that it does make an unbearably loud noise. Some customers even report having to use earplugs each and every time they switch it on. With that said, there is a quieter version of the same driver, and it's called the Quiet strike.
There's quite a few brands of impact drivers to choose from. You really can't go wrong in purchasing either one of them. In most cases, you get what you pay for and by reading our impact driver reviews, I hope we helped solve some concerns many of you have.
Last Updated: 4/3/22