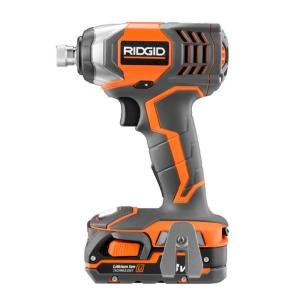 The Ridgid impact driver is a device commonly used by carpenters and contractors to reduce the effort they have to use in screwing and unscrewing. The device creates a sudden downward rotational force. To unscrew, it works for large screws and over-torqued, or frozen nuts. It can also be reversed to replace a screwdriver when excessive force is needed.
The device comprises of two main parts, an internal hammer attached to a spring. When the drill is pressed, it pushes the internal hammer which in turn pushes the spring. When the spring is released, it presses the energy onto the hammer while twisting it. This high-level force while rotating enables the screw to be bolted or removed.
The internal force generated in the impact drill when screwing is what makes it different from the standard drills which require a manual downward force to be applied while screwing.
.
Pros
Cons

Multiple Torque speed settings
Tri-Beam LED lights
Fast charging battery, 3-year limited warranty and lifetime service
Ergonomic design & Belt Hook
One hand quick bit load bit holder

The batteries can get expensive to replace
Top Ridgid Impact Driver Questions & Answers
Do I Need to Buy An Extra Battery for the Driver?
The best answer to this question is a no. This is due to the fact that extra batteries for the drill cost almost the same as buying a whole new kit. This thus makes it inefficient, rather than obtaining a new battery, get a new kit instead.
Is there a Difference Between Using the Impact Driver and Cordless Drill?
The difference in the devices is the rotational speeds. The cordless drill allows smooth rotational drills. Unlike the impact drivers which have a higher rotational force and speed or torque which is key to efficient results for any drilling tasks.
Which Impact drivers are better, Brushless motors or Those with Brushes?
To determine the better option, it is important to first note that brushes refer to the motor type. For the standard motors that tend to use the brushes to pass electricity to the spinning rotors, tend to wear down thus reducing the efficiency of the device. Brushless impact drivers do not need electric transmission to the spinning rotors thus resulting in less friction, wear and thus a longer life of the device.
What's My Take on Ridgid 18v Impact Driver
For jobs that tend to alter the materials being screwed or bolted together will find the rigid impact driver as their best option due to its multiple torque speed settings.Furthermore, I love the fact that Ridgid has created versions of the impact driver that do not have a tapping sound. Although it is a minor adjustment, it is a relief for people who hate the annoying tapping sounds.
The small firm yet comfortable grip further makes it the most comfortable device. If you intend to work efficiently and save time, The device is your best option with its low 25 minutes charging time and long operation time for fast yet perfect results.
.
In-depth analysis of this Impact Drivers Key Features
The Tri-Beam LED lights on the device can be used as a flashlight even when the device is not in use. This is very convenient when the device is being used in dimly lit spots.
To many users, its multiple speed settings is a key benefit. The multiple speed settings allow the user to switch the torque they need as different tasks and materials require different forces to get the job done.
White finger syndrome is a secondary version of the Raynaud's syndrome, an industrial related form of injury caused by overexposure of the hand to vibrations. With the Ridgid impact driver, its ergonomic design is aimed at keeping you safe from the machine's vibrations thus white finger syndrome.
Every Contractor knows the benefit of having their tools close at hand for use anytime they need. The Ridgid impact driver takes this factor into consideration through having a belt hook that allows you to keep the device close to you at all times.
For efficient and time-saving purposes, the load bit holder is simple to load with one hand. This makes it a useful tool to save your time and promote efficiency in your work.
As compared to many other brands of impact drivers, the Ridgid brand takes the shortest time to charge. It takes only 25 minutes to charge fully. The low charging time does not affect its operational time. It thus properly utilizes energy and cuts precious time through its fast charging feature.
How To Maintain the Impact Driver
Firstly, always check the device for any faulty parts before any use. Using a machine with damaged parts increases its chances of breaking down completely, causing injury to the user and reduces the quality of work.
Secondly, note the sound the machine produces as it operates. For any odd sounds, have an expert check it for any damages.
Regularly check the battery fuel gauge to ensure that the device has adequate fuel at all times.
Checking the device regularly for malfunctions keeps it efficient but proper handling extends its lifetime.
Battery Life
The short charging period of 25 minutes of the impact driver does not make it run shorter spans of time, instead, the Ridgid impact driver runs for up to 2 times longer than the operating length for standards impact drivers. Their long-running span and short charging span is due to the hyper Lithium-Ion battery that runs the machines.
Who can use this impact Driver?
The impact driver can be used by any homeowner who likes to take part in their own home DIY projects. As home DIY projects involve different types of materials, the various torque speeds of the Ridgid brand makes it the best option. Furthermore, it has a high torque as compared to other drilling equipment thus making it more efficient.
In addition, if you need an impact driver that will last you a lifetime thus saving you the costs of purchasing new devices frequently, then the Ridgid impact driver is your tool.
Last but not least, are you looking for a user-friendly impact driver, then look no further than the Ridgid due to its compatible size and ergonomic design meant to make it a safe tool. Its design helps reduces instances of injuring your wrist as you operate it.
The Ridgid impact driver is thus the best tool for a DIY enthusiast who wants a lifetime lasting, user-friendly, high torque and efficient best impact drill for the money.
Critical review of this Impact Driver Model
Although the tool has some good features, it has some factors that I did not appreciate which I compiled with those from Ridgid impact driver review by other users.
The impact driver cannot remove car lug nuts.
Although it has variable speeds, the lowest speed is actually very fast thus inefficient for tasks that need low torques.
Some versions have a very annoying sound close to gears falling apart as it operates.
Another disappointment with the driver is that the screwdriver keeps on disengaging from the impact driver.
To get the three-year warranty, it is mandatory to buy the product from the Ridgid company only.
The machine is not as efficient for light-medium work as it overheats and needs some time to rest after a series of strenuous tasks.
Comparison with other models
1.Ridgid R86034 vs Ryobi P236
As compared to the Ridgid version, the Ryobi is larger, heavier and charges much slower. However, it has the better run time, a high Amp battery and 3 LEDs to its advantage.
2.Ridgid R86034 vs Porter Cable PCL 180ID
Ridgid is better as it has a 3-year warranty and built-in gauge as opposed to the Porter cable impact driver that has a 1-year warranty and does not have an inbuilt fuel gauge. The Porter Cable, however, is better due its low cost and spring loaded battery eject.
3.Ridgid R86034 vs Dewalt 20v DCF885C1

The Dewalt 20v impact driver has a better running time, it is IP56 rated and it's more compact as compared to the Ridgid version. However, Dewalt impact drivers are very costly and rare.
4.Ridgid R86034 vs Milwaukee 2753-20 M18 Fuel

The Milwaukee impact driver is closely similar to Ridgid due to its three-speed levels. However, this brand is costly and it does not have a belt clip.
5.Ridgid R86034 vs Bosch 25618
Bosch does not have a fuel gauge and only has a 1-year warranty compared to the 3 years offered by Ridgid. Its pros against Ridgid are its low cost and quality feel.
What do users say about the Ridgid driver?
Users of the driver have praised it for its various features below are some of their comments:
It is great for working on your car
It gets the job done and is easy on the wrists.
It has a reasonable noise level, it is light, fast and has good power.
It has a long-lasting battery that charges easily and in a short time.
I have multiple Ridgid Impact Drivers as I use them almost every time.
It is light but it could be better for the price.
The tool has allowed me to prevent wasting time on stripping screws and drilling pot holes.
Awesome battery warranty.
I bought the drill for my dad and did not have to spend a lot of money for a good drill.
The driver works best for home tasks.
The tool looks awesome and it's at a good price too.
Ridge is always a solid choice as a tool.
I do not know how I made it without the Ridgid Impact driver.
The Impact driver works better than I expected.
My Final Thoughts
In conclusion, I love the device and it is my go-to tool for home DIY projects. It is compatible, efficient and has a high torque to ensure that I am always able to use it for any tasks. I also feel safe using the Ridgid impact driver due to its user-friendly qualities.
.