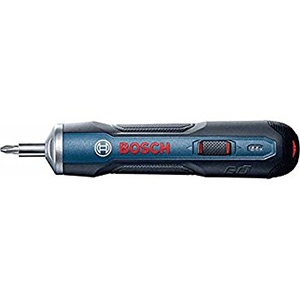 Cordless screwdriver reviews are the best way for you to determine the best cordless screwdriver for you. The Bosch Go 3.6 V Smart Cordless Screwdriver set has a pretty self explanatory name. It is a cordless, power screwdriver set that includes a 33 piece bit set, a USB charging cord and charger, and a carrying case that accommodates the set. What makes it smart is the fact that you only have to push lightly on the screwdriver and it will screw and unscrew automatically, no button, no trigger.
.
Pros
Cons

This is a very lightweight tool coming in just under 10 ounces.
Can use as a manual screwdriver.
Quick charging capability

It is only a straight handle, there is no right angle setting.
There is no LED light for dark work spaces.
It is difficult to push down while unscrewing a screw.
Bosch Cordless Screwdriver FAQ
Q: Does the cordless screwdriver have a removable battery pack that you charge?
A: No it does not. It charges with a USB cord and USB charger.
Q: Do you still push on the screwdriver when you unscrew a screw or use the tool in reverse?
A: Yes. You depress the tool lightly for both screwing and unscrewing a screw.
Q: Does the set include the 33 bit kit?
A: Yes, it is actually 32 bits and an extender.
Q: Does the USB charger fit in a standard 220 plug like a cellphone charger.
A: Yes it does fit in a 220V plug like a typical USB charger.
Overall Impression
This tool is great if you have the need for it. Otherwise, it is really just for those who want to have ever power tool and workshop gadget. It definitely does what it claims to do. It screws and unscrews with a decent amount of torque for a 3.6V cordless screwdriver. There could be a few more features that would make it even more user friendly, but they do not make or break the value of the tool. The push and go feature is great when you are screwing in a screw, but it gets a bit awkward when you have the tool in reverse. It is nice that it can also be used as a manual screwdriver.
.
The Basics
This is a cordless screwdriver that utilizes a USB cable and charger. You plug in the tool via the mini port. The set comes with the cord, charger, tool, 33 piece bit kit, and a carrying case that fits the entire set. It incorporates a smart feature that activates the screwdriver with a light push. The screwdriver has three modes, screw, unscrew, and manual mode. It also has 6 different torque settings to allow you to select the correct speed for the project and material.
In Depth
This screwdriver will accommodate a one-fourth inch hex bit. It rotates up to 360 RPMs. It has overheat protection that will automatically switch the tool off in the case of overheating. The screwdriver has an e-clutch that not only ensures correct speeds, it stops the screwdriver instantly when there is no longer pressure on the tool. For manual use the screwdriver has a spindle lock to keep the screwdriver firmly in manual mode even when applying a lot of force. The cordless screwdriver, by Bosch, has a battery level indicator to let you know the battery level when in use or when charging.
Maintenance
As any screwdriver, this one is fairly easy to maintain. It is important to keep the vents of the cordless screwdriver free from any dirt or debris. Do not expose the tool to any liquids. If there is the need to clean the cordless screwdriver clean it with a damp cloth and mild soap. Avoid getting any dirt or debris inside the mini-port.
Accessories
The set already comes with all the accessories that you will need for this tool. The 33 piece bit set is comprised of 32 bits and one extender. All of it stores neatly in the carrying case, another included accessory. When you buy the set, there is no other accessory that you need for this little tool.
Who Should Use This Cordless Screwdriver?
This is the perfect little tool for someone that fixes a lot of electronics or anyone that has to handle a lot of screws. It is also a nice tool to have around for someone who lacks hand strength to operate a screwdriver. While it has plenty of torque for screws, do not use it for anything other than driving screws into pre-existing holes. If you regularly have a drill or driver on hand this tool could become redundant. However, if you have something sensitive to over tightening the cordless screwdriver is perfect.
What's not to like?
This cordless screwdriver is a little pricey even considering the 33 piece bit set that comes in the kit. For the price, you would expect it to be able to adjust to become a right angle screwdriver. It is a straight handle tool and is not suitable for tight work areas. It also lacks any type of work light which would be helpful for electronics work. While it has a decent run time on the battery, about 100 or so screws, you cannot change out to a new battery to keep your tool running. The battery is built in and is charged via the USB cable. When your battery dies you must used it plugged in or wait for it to charge.
How Does The Bosch Cordless Screwdriver Compare to other Brands?
Compared To Hitachi
The Hitachi cordless screwdriver has 21 different torque settings as well as one drill setting. This is compared to the six settings of the Bosch. In addition, the Hitachi has a LED light that illuminates dark work areas. Another user feature that is lacking in the Bosch is the two position handle that switches from a straight handle to a right angle driver. The Hitachi has a removable and chargeable battery, allowing you to keep the screwdriver running.
Compared to Dewalt
These tools are priced comparably. However, the Dewalt is a much more powerful tool that is also suited for pre-drilling and not just screws in existing holes. In addition this tool is both a straight handle driver as well as a right angle tool. The handle clicks into either position. This tool has a removable battery pack that can be switched out with a fresh battery. The downside to this screwdriver is the weight of almost three pounds.
Compared to Makita
The Makita cordless screwdriver is closest in comparison to the Bosch cordless screwdriver. Both tools have in-built batteries that cannot be changed out. They are also similarly priced. The Makita has the dual position handle, straight barrel and what they call a pistol grip. The Makita cordless screwdriver kit comes with an 81 piece bit set.
What Do Users Say?
This tool is great for those that do a lot of interior design installing window treatments, fixtures, and hardware. It is not so great for someone that needs to work in dark or tight spaces. It has nice speed settings and you do not have to worry about cracking softer materials by over tightening.
Final Thoughts
This is well suited for particular light duty tasks. However, for the price you can get cordless screwdrivers that have a lot more features. There are also other kits that include more accessories than the Bosch cordless screwdriver set.
.