When you are looking for a tool, the first thing that comes to mind is checking customer reviews online, their prices. Rarely do people go into detail to compare features of different tools. These tools come with diverse features that are alluring, quite a delicate budgetary decision.
For the best cordless drill, these two options provide the convenience to move about your workstation safely. You will enjoy drilling countersinks, hammer drilling or hanging cabinetry, courtesy of their cozy gripping. When it comes to driving screws and drilling holes into place, they are outstanding models.
Don't feel like reading the entire drill war? Here's the quick answer 🙂
Ryobi is perfect for the average homeowner who's looking to build a few projects per year and the occasional cabinet door fix. Ryobi is priced low and it's a reliable drill (. ). Dewalt on the other hand, is a beast of a drill that many professional builders and carpenters use and this drill will NOT let you down in any situation and if you're like me, you're going to want the Dewalt 20v max (. ).
To be honest, there's really no comparison when it comes down to these two drills — it's like comparing a Chevy pickup to a Prius, with Chevy being Dewalt. However, since many of you ask about this a lot, I had to write about it to let you know my thoughts.
…Without further ado, here's a breakdown of each drill spec for spec and then you can decide on which drill will better suit your needs:
Let's Compare

Ryobi Vs
Dewalt

Cordless Drill

#1
Ryobi P1811 18V

Drill-Driver Kit

Pros
24 Torque settings
Compatible battery with other tools Ryobi tools
Quick in drilling
Easy to use
Flexible
Cons
I don't like the fact that provided batteries are low amp hour rated
The low 340-inch-pound torque isn't my cup of tea.
.
At just 2.7 pounds, Ryobi P1811 is your best shot if you are looking for a portable lightweight cordless drill. To learn more about this drill, read our (in-depth Ryobi cordless drill review).
What you get

with this drill:

This drill pack comes with two P102 18V batteries and is widely compatible with most of the Ryobi's One and system of tools. Furthermore, the batteries are up for multi-tasking; you can use them conveniently in other tools like saws, lights and many other cordless ryobi tools.
It is also well-matched with the conformist 18V Ryobi models, an easy swap between the old and the new. For those who don't want anything beyond 1600 RPM, this is an excellent choice. What's more? The intelligent design is a keyless chuck drill that allows quick switching of bits and tasks. You will appreciate its flexible convenience of use safely without corded inconveniences.
For an easy to handle body size, it comes as an all-in-one system, a match for your home repairs and renovations, your idea of a versatile tool to work smart.
Top FAQs
Q: Does the P1811 18V come with a charger and tool bag?
A: Absolutely yes, it is equipped for ready use and ease of packing.
Q: Is there anything like inbuilt an illumination system in this design?
A: By all means, this will be handy when working in dark surroundings.
Q: Can it deliver beyond 1600 RPM?
A: Not exactly, it's an excellent performance pegged at 1600 RPM and below.
My take on the Ryobi 18V Drill-Driver Kit?
All around, this is a pretty solid drill that can handle all DIY type tasks efficiently. The only problem I have is the low max RPM of 1600. Where this can become an issue is when you need to use paddle-bits to bore out anything beyond 1″ can become a problem, as well as using hole-saws.
On first sight, you might be tempted to underrate this drill, but not until you realize it comes with 24 variant torque adjustment positions. The Adjustable torque is a bonus feature to have that will prevent snapping off the heads of screws – the 340lbs of torque rating isn't the greatest, but it is sufficient enough.
#2
DEWALT DCD795D2 20V

Hammer-Drill Kit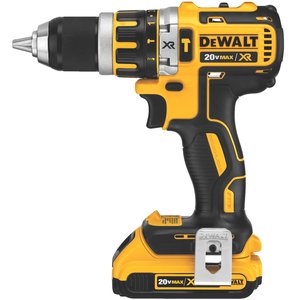 Pros
57% runtime
3-speed transmission
High 2-speed drill 2,250 RPM
Comfy grip
Easy to store
Cons
.
For the average run time, this drill delivers up to 57%, way better than the brushed, thanks to its relentless brushless motor power.
(read brushed vs brushless to understand the differences) Or read our (in-depth Dewalt 20v max review)
Besides, it is befittingly supported by reliable XR Li-Ion batteries plus a quality fuel gauge. They complement performance with 33% excess capacity, your possible preference over the conservative packs.
More so, it comes with a high-speed transmission with 2-speed settings of both 0-600 and 0-2,250 RPM. This a stamp for guaranteed delivery on speed and torque control for extensive drilling and fastening applications. As a masonry expert, you can comfortably rely on 0-250 BPM for projects that require solid speed.
Dewalt cordless drill provides the ease of storage and carrying, courtesy of its lightweight design and compact body size of 7.8-inches. This is the drill that can fit into narrow areas for diverse drilling loads.
Top FAQs
Q: Is it possible to turn the hummer function off?
A: Sure, this is possible using the clutch adjustment control
Q: Should I expect a carrying case on purchasing this drill?
A: Yes, it comes with one for physical body protection on storage.
Q: Is this drill built with LED lighting?
A: Absolutely, the LED is dedicated for straightforward operation in darker surroundings. It is an impressive 20-second trigger release delay as well.
My take on the DEWALT DCD795D2 20V Hammer-Drill Kit
I would opt for this model because of the secure grip and the ease to control it than most mainstream cordless drills. This is largely supported by the ½-inch ratcheting chuck in the body construction.
Though I feel the DEWALT brushless motor power is sufficient enough, you might yearn for something to do with over 60% for high-powered and tedious jobs. Nonetheless, you will relish the idea behind the included two 20V Max XR Compact Li-Ion Batteries of 2.0Ah. The quality of these batteries is long lasting after a few hours of charge.
Other features you will have is a belt hook,, a quick charger for real-time convenience and an on-board bit holder.
The most favorite and striking part is the feature behind its LED illumination. A 20-second trigger release delay is a perfect convenience for site visibility. Just in case you are working on dark areas or confined places, this drill will save the day.
What I didn't like
Not all drills can be perfect and here's what I don't like about this drill. First off, it's pricey when compared to other models in its class. Secondly, I love higher RPM models for the fact that I need to use paddle-bits and hole-saws frequently and the chuck wobbles over time at max RPM speeds.
Other than the couple issues I have, it's a solid drill and I find that I'm getting a lot done with the battery power it has.
#3 Ryobi Vs Dewalt
After ordering this drill and operating it for months, I have to admit the conviction behind my humble take. I appreciate the fact that Ryobi cordless drill represents an excellent choice if your projects require less than 1600 RPM of power.
However, if you want something superior, Dewalt beats Ryobi effortlessly. Credit goes to the easily adjustable 2-speed settings of both 0-600 and 0-2,000 RPM. They are quite an irresistible aspect to bank on for difficult tasks, a reliable speed supported by robust torque power.
For those in the construction industry, 0-250 BPM is quite a giveaway from Dewalt, exceptional speed for fast drilling processes.
However, I didn't like the quality material construction of Ryobi handling case. The engineering of Dewalt seems devoted to durability. This might save you extra purchase costs.
I have to give it to both drill manufacturers on ease of maintenance, particularly when it comes to cleaning. This will save your time and energy. The cordless factor is impressive for both drills, but Dewalt has the upper hand, thanks to its brushless motor. For me, I conceive the idea as to whether an 18V or 20v is the decisive feature is kind of overrated.
Moreover, the Dewalt is backed by a 3-year warranty, a guarantee that the manufacturer will support you all the way, just in case of in-built malfunctions.
2.6 lbs. For Dewalt cordless drill is an irresistible feature compared to Ryobi that comes with a general body weight of 2.7 pounds. This is the expediency you would need when carrying this tool, working for flexible hours and minimized exhaustion.
For most workmanship, many are keen on the ability to change bits for reduced time wastage, especially during the long projects. Once more, Dewalt is a preferred choice. Switching drill bits is super easy.
Final thoughts
Today, power tools come in countless shapes, sizes with assorted capacities and features. Arguably, these dual cordless drills are quality construction. However, if you are thinking of steady consistency in workflow, you won't have to blink before you select Dewalt.
Remarkably, both manufacturers have also embraced eco-friendly designs that don't cause noise pollution, as characterized by outdated cordless drills. It is a walk in the pack for those who require drills that would last for a long time since both Ryobi and Dewalt doesn't disappoint.
Both boast fairly equivalent strengths on battery longevity even though my favorable is Dewalt's lithium-ion battery. For Ryobi, at full charge, it can comfortably last you only for 45 minutes, yet the charging takes barely 30 minutes. Nevertheless, I hope these cordless drill reviews make it uncomplicated for you to decide.